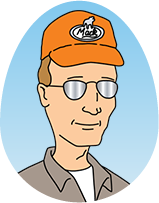 Dale Alvin Gribble, King of the Hill
Dale is an early-unlockable hero in Animation Throwdown and becomes available at Arena Rank 6.
Hero Stats
 Dialogue Exchanges
These are comments this Hero says to opposing characters in Arena Mode.
Bobby
"I will display my dominance over the Hill family!"
"You're a good kid but you've had this coming for a long time."
"I've always been jealous of you, Bobby."
Hank
"I've got a score to settle with you. Sha-sha-shah!"
"Yep."
"PLEASE DON'T HURT ME, HANK!"
Dale
"Which one of us is Evil Dale?"
"I always knew the government had a cloning machine."
John Redcorn
"Hey, John Redcorn."
Peter
"I'm gonna send you to Quahog heaven."
"Peter, Peter, knuckle eater!"
"I don't like the cut of your jib."
Brian
Stewie
"Can I bum a smoke when we're done here?"
"If you think this is the first time I've fought a baby, you're wrong."
Consuela
"Time to take out the trash! And can you pull cans to the curb too?"
The Giant Chicken
Tina
"Finally, someone less athletic than me."
"How do I know you're not a government agent in disguise?"
"Stay away from my son!"
Louise
"Even I can beat up a little girl."
Bob
"I'll take one Me-Punching-You-In-The-Face burger to go."
Gene
"I haven't fought an 11-year-old in weeks."
Leela
"Sorry Lady Cyclops, I'm taken."
Fry
Bender
"Now where did I leave my vinegar and bleach?"
"The robots have gained self-awareness. It's the singularity!"
Zapp Brannigan
"Nice boots, spaceman. Do they come in a size six and a half?"
"Well, well, well, if it isn't my doppelganger."
Stan
Steve
"Clever opening gambit. Game on."
Roger
Ricky Spanish